Examples
EXAMPLES OF APPLIED COLOUR
THE examples of applied colour which have been included in the present edition of this book have been chosen from Eastern sources, generally less familiar to the student than European work. They illustrate colour-schemes founded upon the three great principles of Harmony, Contrast, and Discord, as deduced in the preceding pages from the Natural Order of Colours. A wide field in applied design is covered, comprising Anatolian embroideries, Persian faience tiles, and Indian applique work, with carpets and embroideries from China, and silk brocades from Japan. A short analytical description of each example is provided in the notes that follow.
PLATE I
Frontispiece
EMBROIDERED CLOTHS, ANATOLIAN, NINETEENTH CENTURY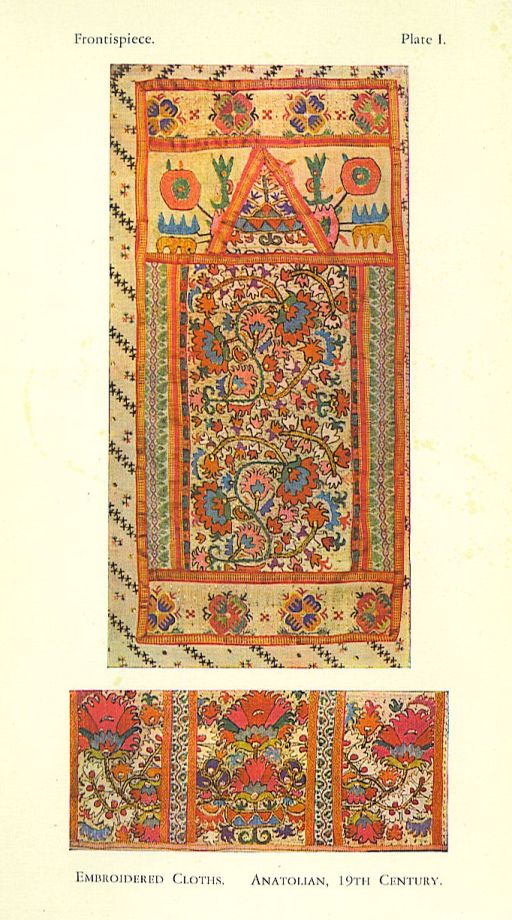 Gaiety without crudity is achieved in the uj-per subject by the use of Reduced Contrasts in small quantities and in a great variety of tints. The choice of colour for the background prevents any startling contrasts of tone. In the lower subject, despite the cool and subdued tints of many of the smaller forms, the pattern arrests the attention by its fiery brilliance. This is produced by the modified Discord of cerise with orange-red, used in fairly large adjacent patches of almost equal tone.
PLATE XXII
PERSIAN FAIENCE TILES, EARLY NINETEENTH CENTURY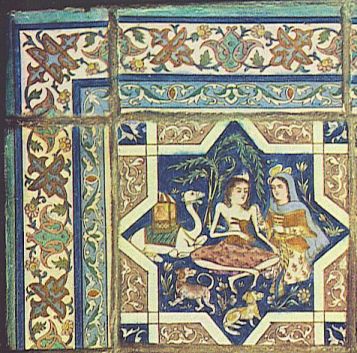 The whole composition is kept, as it were, in a minor key, so that it requires more than a casual glance to detect the delicate passages of Discord which enliven the subdued harmony of the main scheme. Especially interesting are the distribution of colour, and the resultant variety of tone and texture.
PLATE XXIII
INDIAN PANEL OF APPLIQUE WORK ON FELT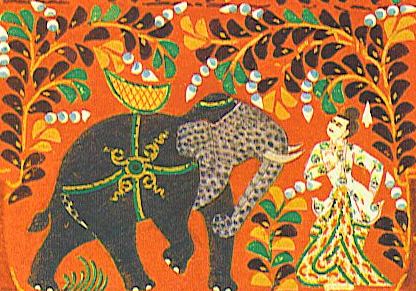 The colour-scheme in the upper part of the panel suggests the quiet glow and shimmer of certain metals against a rich depth of background. This band, with its sober restraint, makes an admirable foil for the somewhat hard glitter of the lower section, where are shown those more violent oppositions of colour and tone which call for the harmonizing effect of an Eastern sun.
PLATE XXIV
WOOLLEN CARPET, CHINESE, EIGHTEENTH CENTURY AND PARTS OF SILK EMBROIDERED CHINESE GARMENTS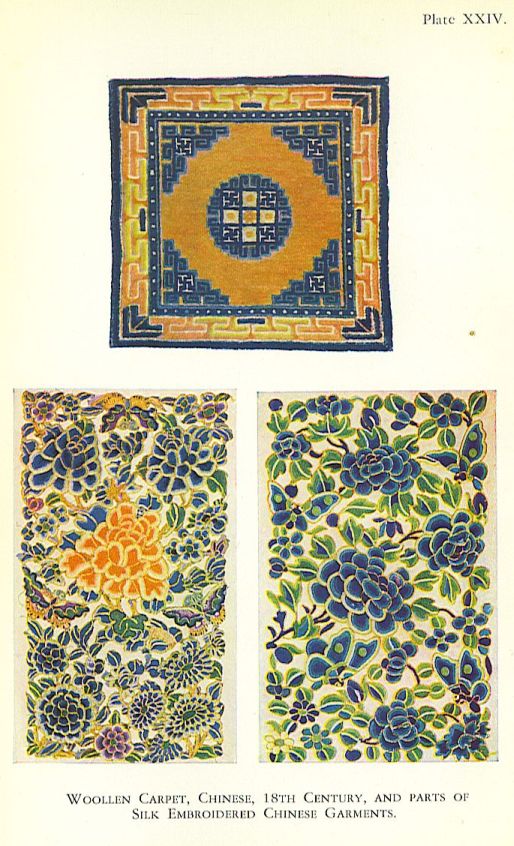 These lovely examples of Chinese colour-schemes exhibit a clarity and brilliance which is yet quite distinct from the tremendous force of the Indian panel on Plate XXIII, or the gaiety and glow of the Anatolian embroideries in the frontispiece. Once again the principles of Harmony and Contrast are demonstrated, but both choice and distribution of colour are the products of a different mentality in a different environment.
PLATE XXV
SILK BROCADES, JAPANESE, EIGHTEENTH CENTURY
The charm of these designs arises as much from the exquisite distribution of tone and colour as from the dainty variety of small forms. Particularly noteworthy are the use of black and white, and the effect of " bloom " produced by Discord.