Old Steam Engine
To waste no more words, however, in mere speculation, but to come to facts, the history of the origin and progression of these truly wonderful works, of which more anon, is in itself by no means void of interest even of something of romance. In the well-known and ill-remembered yellow fever summer of New York, an Englishman by birth, a carpenter by trade, landed in the city of the plague, a stranger, friendless, sick, and but scantily provided with what has been termed the root of all evil, which one third of our people, however, regard as the sole object and aim of exertion and existence here and hereafter.
His good fortune, or rather-for we believe not in fortune-his good providence brought him in contact with that most singular of geniuses, Grant Thorburn, With him he boarded, with him struggled through the terrors of the prevailing pest, by him was tenderly nursed, and from his roof entered into business with SMITH, the well-known machinist and inventor of the hand-press which still bears his name; nor is it yet superseded by more recent improvements. Their partnership terminated only with the decease of Mr. Smith; from which time, under the sale conduct of Mr. Hoe-for the stranger guest of Mr. Thorburn was no other than the father of the energetic, inventive and enterprising gentlemen, whose works we are about to describe-the business became permanently established, and yearly advanced in popularity and reputation, which constitute profits.
Still, greatly as he improved upon what had been before, at his death in 1834, the average annual sales of the concern did not exceed 50,000 dollars; they never now fall short of 400,000; and often amount to half a million. Such are, and will ever be, the consequences of energy, industry, probity and sobriety, joined to an earnest and sincere application of that talent, which each one of us in some sort possesses, to its true and legitimate increase and improvement- in other words, to quote a book so much out of fashion-and the more the pity!- in these piping times of progress, as the old church catechism, a quiet resolve to " do our duty in that state of life to which it hath pleased God to call us," Shortly after the death of Mr. Hoe, sen., his sons and successors, finding the then premises insufficient, moved to the ground now occupied by their great manufactories, occupying a hollow block four stories in height, of two hundred feet front on Broome street, by one hundred in depth on Sheriff and Columbia streets, as also a second lot on the other side of Broome street, containing their saw works, hardening furnaces, stables, and other necessary buildings. In these works, a bird's eye view of which is prefixed to this paper, and the ground plan of which we here present, the Messrs. Hoe continually employ three hundred men, some of them persons of great ability as draughtsmen, pattern-makers, mechanicians, and the like-men literally of every nation, as nearly as may be, under the sun; among whom are comprised several Armenians, said to be persons of great intelligence and excellent deportment.
Besides this, their principal factory, they have another large and well built establishment, containing ware-rooms, counting-house, blacksmith's shop, machine shop, and steam-engine room, in Gold street, nearly adjoining Fulton. This, though in fact headquarters, we shall pass over for the time being, premising only-in order to show the perfect method and system of time and labor-saving with which every thing belonging to this firm is conducted that they have at their own expense, and for their own private use, erected an electric telegraph, carried by the permission of the proprietors over the roofs of houses, from the counting-room to the uptown factories, by which the smallest message or order is conveyed, and answered almost instantaneously. Nor are the proprietors dissatisfied with the result, having found by experience that the great original expense was very speedily compensated by the gain of time, and yet more of precision which it introduced.
Returning up-town, therefore, we will descend into the vault under the first yard, in which we shall find the moving puissance of all the vast machinery of hammers, planes, lathes, drills, grindstones, tools and devices, almost without name or number, which are constantly laboring with their iron nerves, noiseless, tireless, indefatigable, through every story of the great building-in the shape of the boilers and steam-engine, which, beside furnishing all the motive power, supply every part, of the building, by a very ingenious application, with a constant stream of evenly tempered, pure, heated air, at the same time maintaining a thorough ventilation, and all without the slightest danger of fire. The spent steam is brought into a series of coiled pipes within a trunk, through which a continual stream of pure external air flows without intermission, and is carried by wooden tubes through every story and room of the building; as is likewise an ample provision of Croton water, as well a provision again~t fire, as for the cleanliness and comfort of the men.
Of the engine there is nothing very special to be observed, as it is of the old construction, and, though perfectly eft1cient, not now to be imitated or adopted. It is a horizontal high pressure engine of about forty horse power, under the head of steam usually employed, though capable of exerting considerably more force, if called upon. There has been recently attached to it a singularly ingenious little machine, in the shape of a hydraulic regulator, of which great expectations are entertained, and which, in the very short time it has been tested, works to admiration, one week only having elapsed since its application. To attempt to describe this, or in fact any other complicated machine, in an illustrative article such as this pretends only to be, were an absurdity; for the operations of the simplest engines can be rendered thoroughly comprehensible, only-if at all-by thorough diagrams with numerical references, and then comprehensible only to scientific readers, conversant at least with the principles and working of the motive power, and the forces to be exerted by it.
Ascending from the subterranean regions, which are, by the way, so constructed under an open and little occupied court-yard that even in case of any untoward accident the least possible damage would ensue, and certainly no upheaval of whole edifices, as by the explosion of a powder magazine, would be the consequence, we arrive next in the order of production at the great foundery, occupying nearly one half of the ground floor on the Broome street front. Of this, although it furnishes the rude material, the first degree we mean from the actual raw metal for the whole establishment, the saw manufactory alone excepted, there is little to be noted worthy of particular attention by those who are familiar with the operation of furnaces, founderies and casting on a large scale, as in fact there is nothing in it unusual or novel, unless it be what struck us as both novel and unusual, the general absence of noise, confusion, din and turmoil, not to mention ill sounds, ill savors, and oppressive heat, which seems to pervade the whole establishment. steam engine This, ministering as it does largely to the comfort and well-being of all concerned, detracts somewhat, it must be admitted from the picturesque effect of the scenery, and its adjuncts.
Even the neatness and cleanliness of the orderly and well conducted moving about each his own business noiselessly, and obeying a sign or the wafture of a hand, diminished the effect which we almost expect to feel in an iron foundery, a furnace, or a machine shop.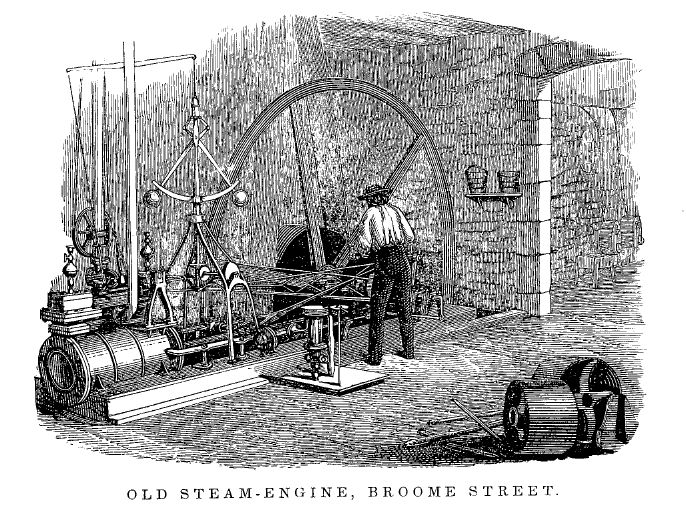 We well remember the impression left on our mind years ago by a visit to some gigantic iron works in Sheffield, an impression which made itself felt for many a month in strange fantastic dreams and painful nightmares-such influence, not on the imagination only but on the nerves, had the dense murky gloom of the dim vaults, suddenly kindled, as by magic, into a fierce incandescent glare by the lava-like torrents of molten iron, the volumes of black smoke, the stifling heat of the oppressed and exhausted atmosphere, and then the roar of unseen waters, suggestive of those subterranean streams of Hades, Acheron and Cocytus, the whirr and hurtling of unnumbered wheels, the terrible and deafening clang of the huge trip-hammers, literally making the solid earth jar and tremble; and last and most appropriate to the scene, the swarthy, grim-visaged workmen, fit representatives of Vulcan and his Cyclops, now glancing into lurid light, now vanishing into darkness, as the fitful flashes rose and fell.
Of a verity there can be no much more appropriate representation of Pandemonium than an old-fashioned English iron works on a large scale. But there is no room for marveling or romancing after this fashion in the machine works of Messrs. Hoe & Co., for all the rooms are well aired, well lighted, and none the less adapted to their purpose for being suitable to the accomodation of men who neither are slaves, nor in anywise resemble devils.