Gift Books
The period from 1820, to late in the fifties, was prolific of a class of books, the popularity of which, simply reflected a contemporary English taste, and shows that in matters literary and artistic, we were still in leading strings. These annuals, " Offerings of Friendship," "Tokens," "Talismans," and " Souvenirs," as they were sentimentally entitled, were issued by the publishers, in stamped cloth, morocco, or calfskin, overlaid with glittering gold foil.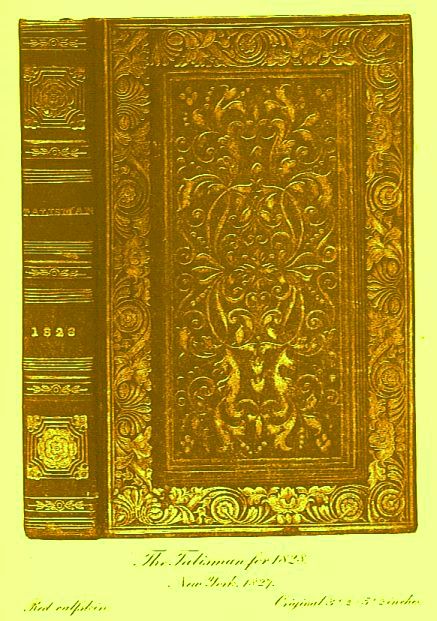 They are equally, if not more valuable for their text and illustrations, than as examples of book-binding, for they contain some Bibliopegy in the United States of the best steel line engravings to be found in the books of their own or any subsequent period. It is the admirable work of such engravers as the Mavericks, Durand, Cheney, Balch, Pease and Hatch after paintings by Newton, Leslie, Inman, Morse, Mount and other American painters, of the first half of the nineteenth century, whose charming genre pictures - the writer ventures to assert - none of their successors have surpassed.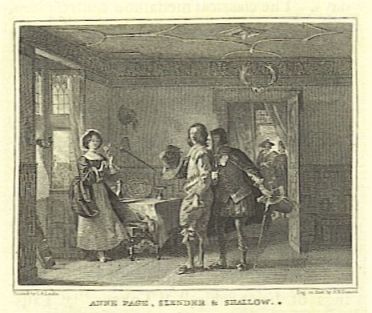 * Scene from " The Merry Wives of Windsor" in the "Atlantic Souvenir" for 1828.


The Essays, Tales and Poems which these engravings accompany and illustrate, were contributed by some of the foremost writers of the day.
These Annuals, for years in the height of fashion, passed away with the Civil War, which changed for better or for worse the old order of things, in so many respects, and poorer books have taken their place ; for these gift books were honestly constructed, and the arts applied to them were legitimate and true, which is more than can be claimed for many, if not most, of the books that have succeeded them. These " Gifts and Keepsakes" antiquated as they have become, are, however, no longer entirely neglected. They are sought by collectors, with some avidity; for they are interesting as mirrors of the simple living and quiet thinking of their age ; and, moreover, they have become somewhat scarce, and this is - shall we admit it ? - a sine qua non with the collector of every species.
We now come to an exhibition of Yankee ingenuity applied to bibliopegy, which might be described as book-cover decoration made easy. But the name bestowed upon the process by its shrewd inventor, is " Patent Stereograpbic Binding." The presumed advantage of the process, was, I understand, the facility with which, by the application of different colors, to the compartments, mapped out by one and the self-same brass stamp, a surprising, and we may add a startling variety of effects, could be produced. This parody upon the Art of book-binding appears to have met with the disfavor it deserved, for I have never seen any example of it, save the one upon a gift book entitled " 'The Rainbow" published in Albany, N. Y., 1848, A. L. Harrison, Binder.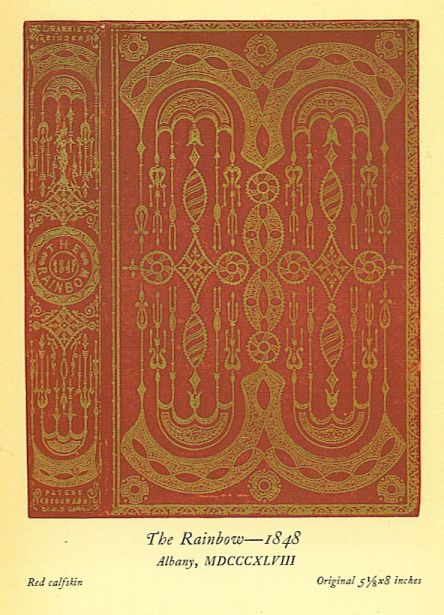 The variety of effects, in form and color, which mottled, marbled and sprinkled calf are capable of assuming, are as infinite and haphazard as those which cause the children's eyes to dance with delight, when they turn with their impatient little hands the wonder-working wheel of a kaleidoscope.
The two most common styles of colored calf bindings are the " Cambridge" in which the calf is colored over the entire surface, except a panel, left uncolored in the centre of the boards, and treed calf, which was so great a favorite with the late Francis Bedford, of England. These calf bindings certainly possess one paramount advantage, and that is the smooth and glossy surfaces they present, and which render them the most inoffensive and harmless of all bindings, to their neighbors upon the book-shelf. No calf binding, however, can hold up its head before one in crushed levant morocco, the ne plus ultra for the covering of a book.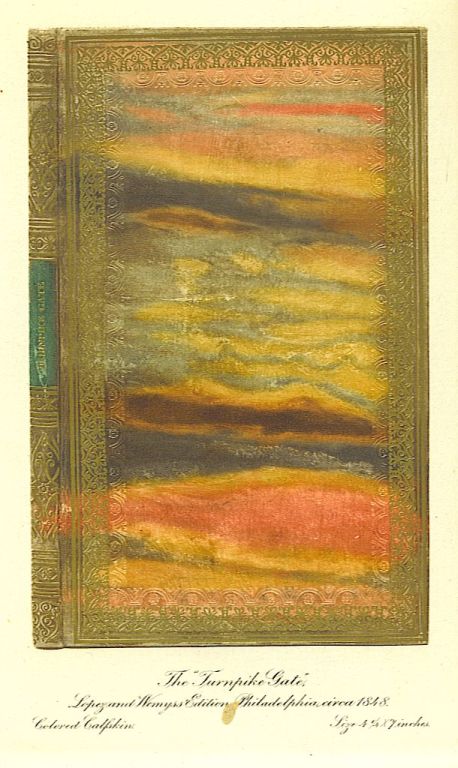 A curious effect in colored calf, is shown in the cover of one of Lopez and Wemyss' Prompter Books, a presentation copy to the Library of the American Dramatic Association, and presumably, therefore, as elaborate a binding of its kind as could at the time be executed. I find the same vividly colored calfskin upon a copy of Ackermann's "Repository" London, 1809, which has in it a ticket which states that it was bound by Neal, Willis & Cole, Baltimore, Maryland.
For a more detailed account than that which we have quoted from Mr. Hazen's " Panorama of Professions and trades," of the various processes of coloring, sprinkling, mottling and marbling the calf covers as well as the edges of a book, the reader is referred to the " Hand-book, on the Art of Book-binding" by Joseph W. Zaehnsdorf (London, 1880), which is as complete a Manual upon the subject as the collector requires.

Prior to the Revolutionary War, sheep, and calfskins appear to have been the only leathers employed by American bookbinders.
Russia leather, so popular in England in the days of Roger Payne, came in vogue at a later period, but fortunately was never used to any extent, except for covering Merchant's Blank Books, and the like, for it is the most objectionable of all leathers, for book-binding purposes, on account of its tendency to become brittle with age, and to part at the joints. The one redeeming quality possessed by Russia leather, is its fragrance,which, like properly cured rose leaves, it will retain for years.
Long after Morocco leather became a regular article of commerce between Europe and the United States, calfskin continued to be extensively used for the coverings of books, probably on account of its relative cheapness. Its use for fine or special bindings is now entirely abandoned, both here and in Europe.

The credit for having raised Bibliopegy in the United States permanently to the rank of a fine art, belongs indisputably to William Matthews, who was born in Aberdeen, Scotland, in 1822, and died at his residence, No. 19 Pierrepont Street, Brooklyn, N. Y., April 15, 1896. He served an apprenticeship to a London bookbinder, and came to New York in 1843, where for three years he worked as a journeyman, at his craft of book-binding. In 1846, he began business on his own account, and in 1854 assumed charge of the bindery of the large publishing house of D. Appleton & Co., at the head of which he remained until 1890. The fine bindings he executed were mainly a relaxation, in which he indulged for the gratification of his cultured artistic taste and the accommodation of a few of his book-loving friends. So far as my knowledge extends, he never professed to make a business of special and elaborately tooled book-bindings.
The lecture read by Mr. Matthews before The Grolier Club of New York (of 112 And Kindred Subjects which he was one of the earliest, most interested, and valued members), March 25, 1885, and subsequently printed by the Society,* demonstrates his familiarity with the history of the art he loved and practised, as well as his acquaintance with its technique.

Of living American book-binders I have determined not to speak, for it would involve criticism and also comparison, which we are told is always odious.
The annual exhibitions of Fine Book-bindings held at our principal book-stores, to which I have already drawn attention, embrace examples of the best work of all the prominent American, as well as European bibliopegists, and those interested in the subject have in these attractive displays ample opportunities to examine, compare, and judge for themselves, of the respective merits of the men

* "Modern Book-binding Practically Considered." A lecture read before The Grolier Club of New York, March 25, 1885, with additions and new illustrations, by William Matthews. The Grolier Club, MDCCCLXXXIX.

and women, who at present are following in the United States, the time-honored and beautiful Art of Book-binding.
Before them still lies the task of creating a style of book-cover decoration that can compare in originality and fitness with those of the Master Bibliopegists of past times, whose designs even Trautz, the greatest of modern French binders, recognized his inability to surpass.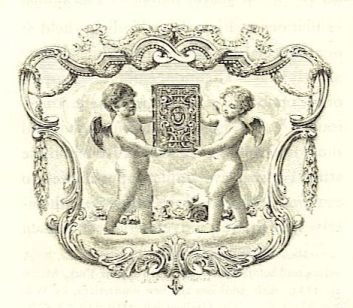 ---