I Plate XI.
BREVIARIUM ROMANUM, sub maj. forma pulcherrime decoratum imaginibus tam tempori quam sanctis congruentibus .
J Paris 1513 (Thielman Kerver.) Giessen, W. 53100.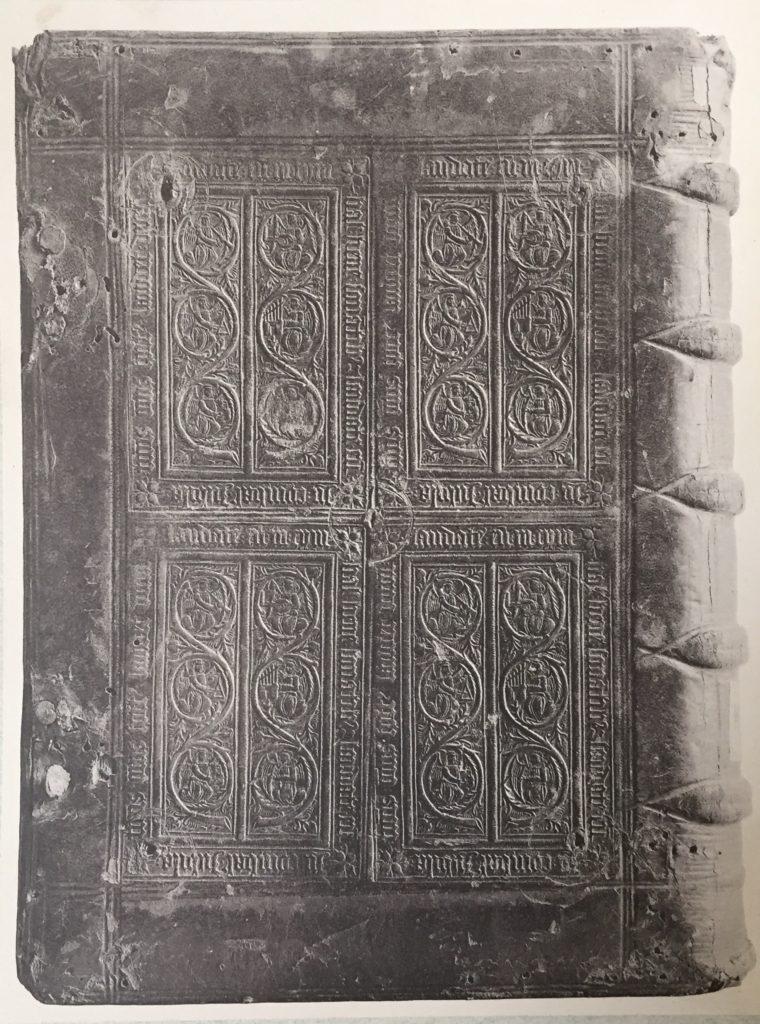 A first rate specimen of luxurious printing, with beautifulletters, initials, small metal cuts and four large leaves as title and end pages with the token. Renaissance motives are already recognised in the borders
On the title is a manuscriptentry. liber R. 1), ac erineipis D. Pin Episcopi Vltrajectini, qui obiit An. M. D. XXIII'.Pits t liurgundia pacienciavictrix.
Binding: Oak boards, bevelled at the edge and covered with smooth chestnut brown calf, 245, 185, 70 mm. The mounts, which are now torn off, consisted of corner and center nails, and edge guards with hollowed contours which have left perceptible traces.
Sewing: 5 double cords, kettle-stitch, headband let into covers Flie hick grooved fer the sewing- as described at Plate VIII. A double sheet of vellum was sewed in to serve as end-paper and cover-lining. To secure the headband in position, a thread was knotted to it, carried over the margin of the end-paper, and through the kettle stitch hole, then knotted again to the headband so often that it could be carried over the inner margin of sheet b, out through the kettle-stitch hole and then again through the sheets k, 0, etc. After the boards had been fixed on, cads were drawn tight from each side of the headband and oversewn with green and white silk, so that a seat was formed at top and bottom.
Alter the leather of the cover had been pasted on, it was further sewed to the headband. The edges are Gilt edges tooled in gilt and tooled in diaper, as shown full size in the woodcut.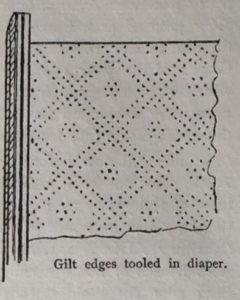 The back is smooth, except the end panels, which are covered thickly with impressions of cords; over the kettle-stitch is a raised band, with slanting lines to imitate cordage.
The decoration in blind block tooling is identical on both sides. The inscription runs: laudate eum in cymbalis bone sonantibus laudate eum in cymbalis jubilationis omnis spiritus laudet dominuin. The angels are playing-shass'm, triangle, bells, mandoline, organ. harp.
The technique of the metal block is so nearly allied to that of the one previously described that it is not unlikely that they are of the same origin, whether used in Paris by Kerver, a German emigrant, or in Utrecht. It is by no means improbable that the volume, which was intended for a better class of readers, may have been issued in this style of binding by the publisher, that is, by the printer himself. The tooled gilt edges are one of the earliest specimens of the kind known, as it is probable that the binding is not much later than 1513. Other copies of the work must still be in existence elsewhere, and an examination of them would no doubt settle the question.
Plate XII.
RICHARD' SCTI VICTOR'S opera omnia.
Paris 1518 (J. Petit.) Cassel, patr. lat. R. fol. 3.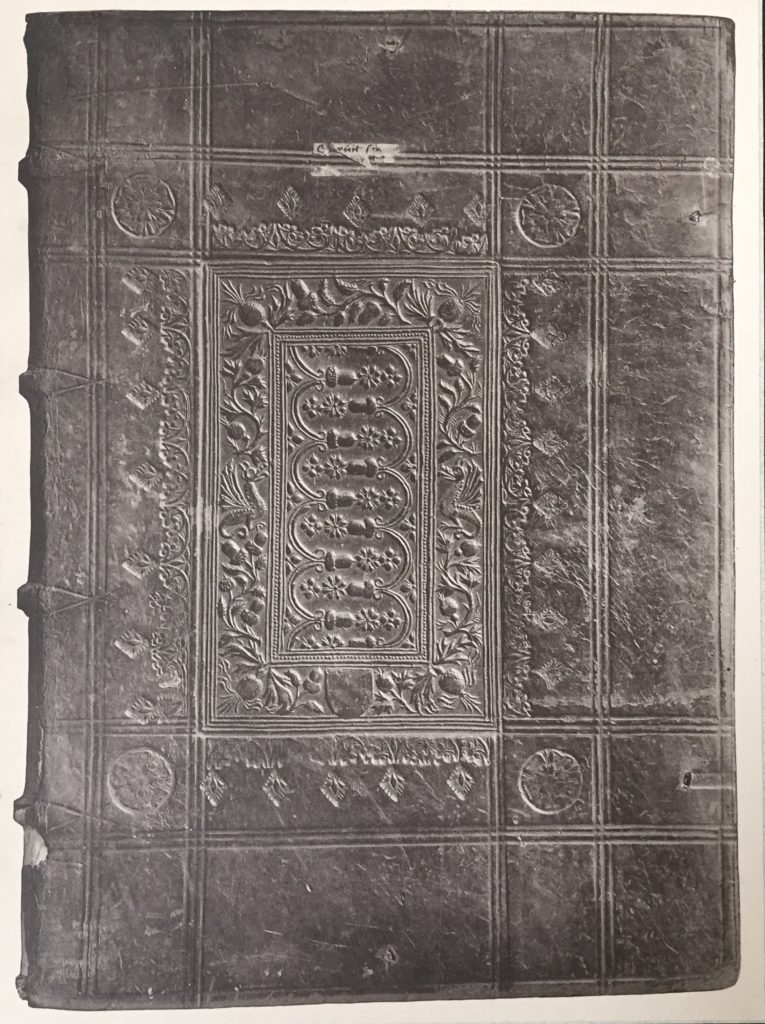 The watermark on the end-paper is a shield bearing 3 lilies and surmounted by a crown; a small t is appended below. On the cover is a memorandum of price.
Binding: pasteboard, covered with polished brown calf Strings. 330, 240, 45 mm.
Sewing: 4 bands of brown slit leather. Headband a strip of vellum spun over with silk.
The pointed arch frieze, identical on both covers, has been impressed with a tool containing two arches. The leaflets on the points were stamped separately and often crooked. The centre block consists of a continuous framework or border including the beading and an inset with z interlocked pieces of arched frieze A similar arrangement of the stamps occurs elsewhere, for instance, on a volume bound by Ott Heinrich in Cassel, where 2 cartouches appear, the one inside the other, the inner appearing by itself on another binding of Ott Heinrich's.
As regards the present stamp, an absolute proof the accuracy of my contention is furnished by the volume: Marburg IVb C. 453 (a reprint of jocundus' edition of Vitruvius s. 1. 1423). therefore add a description of this volume,
Binding, thin millboard covered with brown leather, strings, 1 brown leather bands (torn), kettle-stitch too. 30 mm.
Headband: a twisted strip of vellum spun over with blue and white double thread on an underlay of linen, fastened externally to the kettle-stitch band (the damaged binding allows this to be seen). Back panelled with diaper and little stars. Edges tooled with diaper of double dotted lines with little stars in the spa,(,,,
On this volume the border of our Plate XII is used with a plain centre. The measurements, minutest details and faults are identical. Consequently. either the same tool or a duplicate must have been used.
The Bookbinder for 1888, p. 74, contains some statements about block and roll tooling which must be modified in accordance with what has been proved above. On Cod. III, p, n, 2 and 122. our border is also given from a volume in Worcester cath. libr. Whether these caricatures really represent a tool identical with ours, it is impossible to say. After what was said above, Plate X B, this may very probably be the case. Definite results, the separation of local groups, will only be possible by cautious inferences from peculiarities of the' actual binding, written entries in the book or in catalogue, watermarks &c.