Plate II.
MS. OF THE GOSPELS of the XII. century.
Fritzlar, Church Treasury (cf. Catalog der Austellung in Dusseldorf 188o, No. 963b).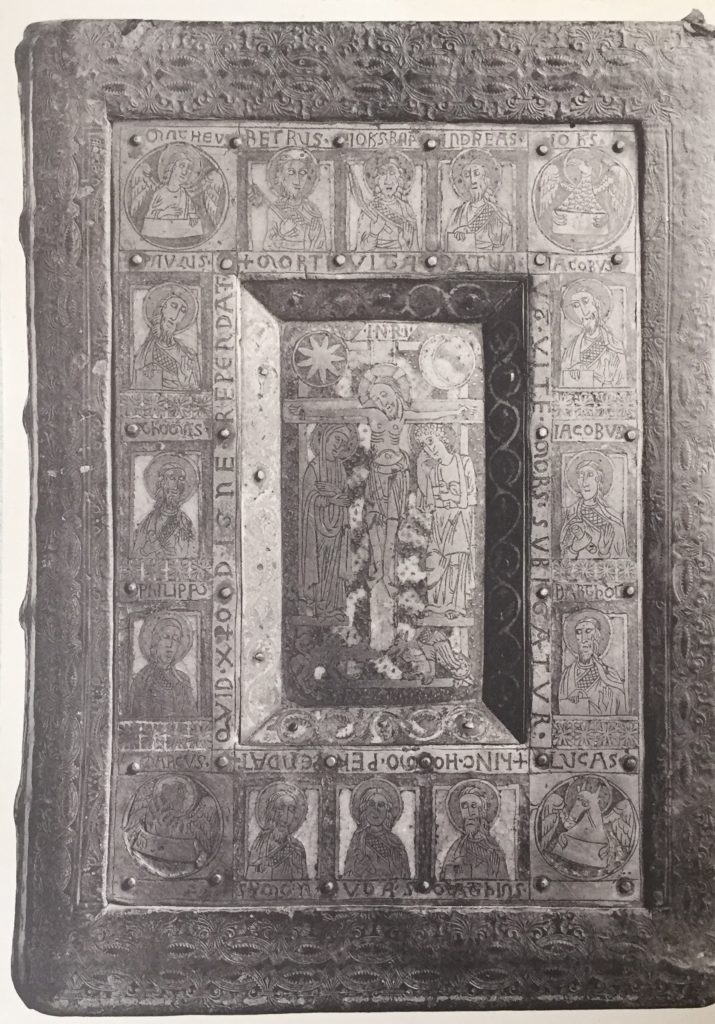 Binding: Oak boards covered with brown calf: 300, 200. 70 mm.
The centre, surrounded by a frieze of varied scroll-work of the 17th century, is occupied by an inlaid enamel tablet, 24o: 165, consisting of a frame in one piece, a centre panel and 4 narrow mitered strips which conceal the inner edges of the frame and lap over and secure the centre panel in its place. The plates are of thick copper gilt, engraved with quarter length figures and a group of the crucifixion; the backgrounds being filled in with dark-blue, lavender-blue" green-blue, bright yellow and white champleve enamel. The colours are all faded and cracked. The sprinkling in the central group is worthy of notice. The engraving is stiff but firm; it is seen at its best in the drapery of the Virgin Mary. Interesting, too, is the symbolical reference of the two beasts — dragon and lion — which are fighting at the foot of the cross. The leonine verses round the inner margin of the frame are : MORTI . VITA . DATUR . VT . VITE . MORS. SVBIGATUR . HINC . HOMO . PERPENDAT . QVID . XPO. DIGNE REPENDAT
The emblems of the evangelists and the figures of the 12 apostles are furnished with the respectivet names. The colours of the enamel are not those of Rhenish champleve enamel; on the contrary, like the pedestal of a cross preserved in the same treasury, they are probably the work of some local factory: Fritzlar, Fulda or Helmarshausen, in which latter town it is well
known that "Rogerus qui et Theophilus", the author of the Schedula Diversarum Artium, is believed to have lived.