Plate XXXI.
A FOREST OF VARIETIES (anonym.). Lond. 1645.
Cassel, poet. angl. fol. s.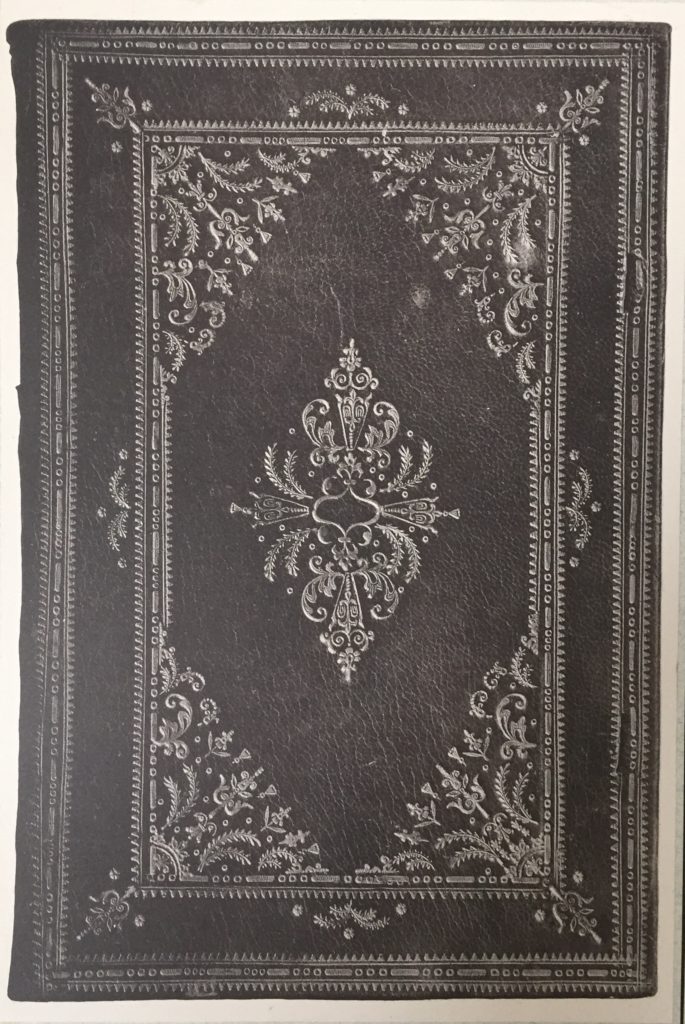 Binding: Millboard covered with dark green morocco, 280 185, 30 mm. red strings now torn off, smooth gilt edges.
Sewing as in Plate XXX.
Decoration: good gold-tooling, with roll borders and a number of detached small tools combined in an original but unpleasing manner. The straight portions of the symmetrical centre piece have been produced with a tool intended for fan rosettes (cf. Plate XXV). This binding also seems to be of English origin.
Plate XXXII,A.
R. HOOKER, of the Laws of ecclesiastical politic.
London 1636.
Cassel, hist. eccles. region. fol. 14.
(H: in dem Schrank bey lit. G 2, in Goldt and seiten gestickte
Decke gebunden.)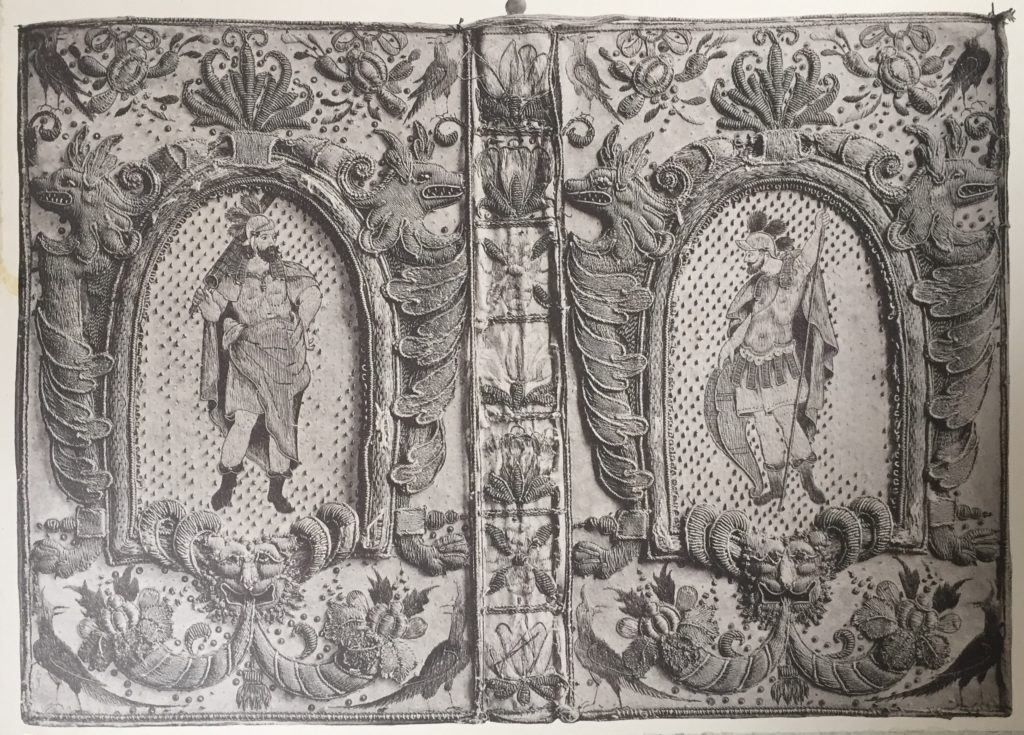 Bound along with other works of the same author in a volume with continuous pagination. The single titles with a very rich, remarkable cartouche.
Binding: Stout millboard, 290, 190, 60 mm. Covered with white satin, on which a baroque border is embroidered in relief with gold thread. Within the border is a figure embroidered in flat in various colored silk: the colors of the robes being surrounded, as in glass-painting, with firm outlines of corded gold thread. The outer ground is sewed over with silver spangles, the inner with fine little rolls of wire. In a capsule covered with colored. paper. The occasion of this sumptuous but very unsuitable binding cannot now be discovered. It was probably a court present, and, judging from its style, was no doubt produced in England.
Plate XXXII,B.
DES HEILIGEN ROMISCHEN REICHS .. .
genealogischer Kalender fur 1765. Frankfurt a M. 1765.
Giessen, G. 10, 73o (formerly: "bibl. aulica Darmst.").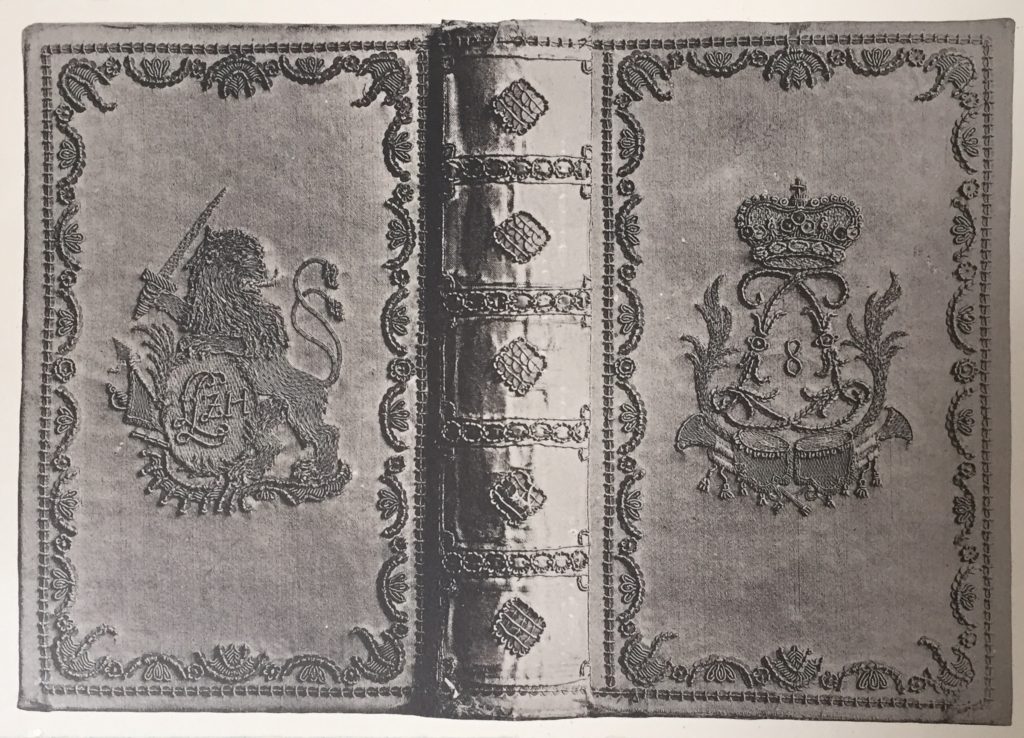 Binding: Thin millboard covered with pink satin. Small 8vo. End-linings of green satin, smooth gilt edges.
Embroidery in gold and silver, with the monogram of the Landgraf and the Hessian lion.
Plate XXXIII.
THE HOLY BIBLE. Oxford 1680.
Cassel, Bibl. angl. fol. 1.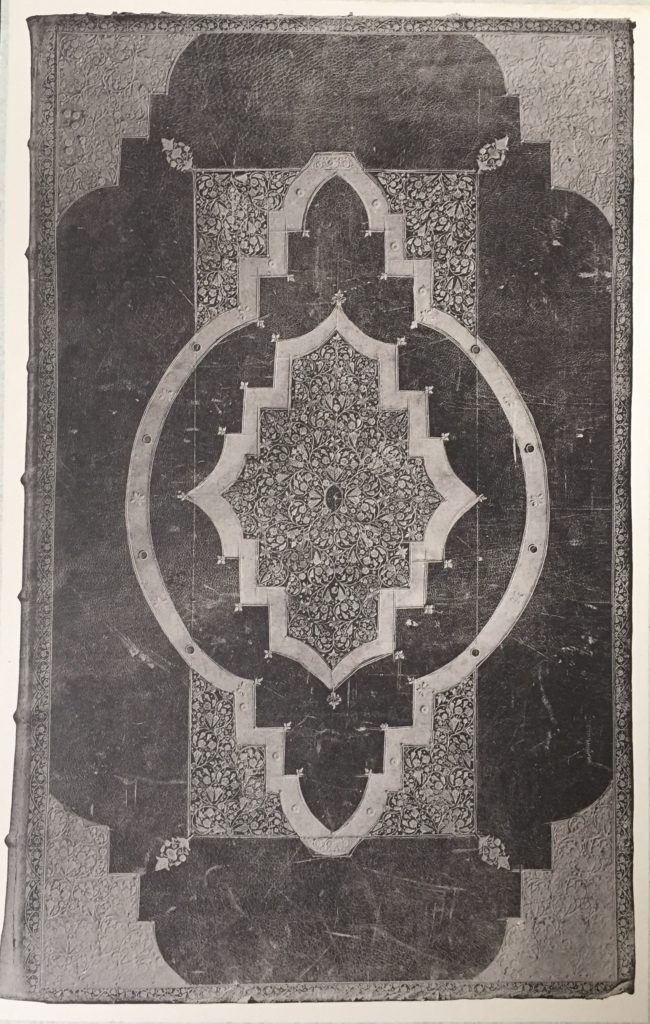 Stout pasteboard covered with black morocco. 7 double cords, smooth gilt edges, 510, 315, 45 mm.
Decoration: the corners and the two narrow inner borders are of onlaid or inlaid isabelle colored leather, the centre piece and the corners added to the round border are of red leather, covered with the most delicate and profuse leaf and flower filigree
work. The whole is surrounded by a border of the same scroll work. The design, which appears very complicated, has been
executed with very few small and tiny tools and carried out very neatly and accurately. The broad back is also decorated with two patterns in which stalks occur from another set of filigree tools with beaded scrolls and long leaf stalks combined from single pieces. The striving for finish which is so early noticeable in English art work is unmistakable in these sharply and accurately cut tools and their application. The volume is unfortunately much rubbed and bruised.