Plate XXXV.
PAGENSTECHER, Jrnerius injuria vapulans.
Groningen 17.31.
Dedicated to the Landgraf Carl.
Cassel, jus. civ. comm. 4to 4i.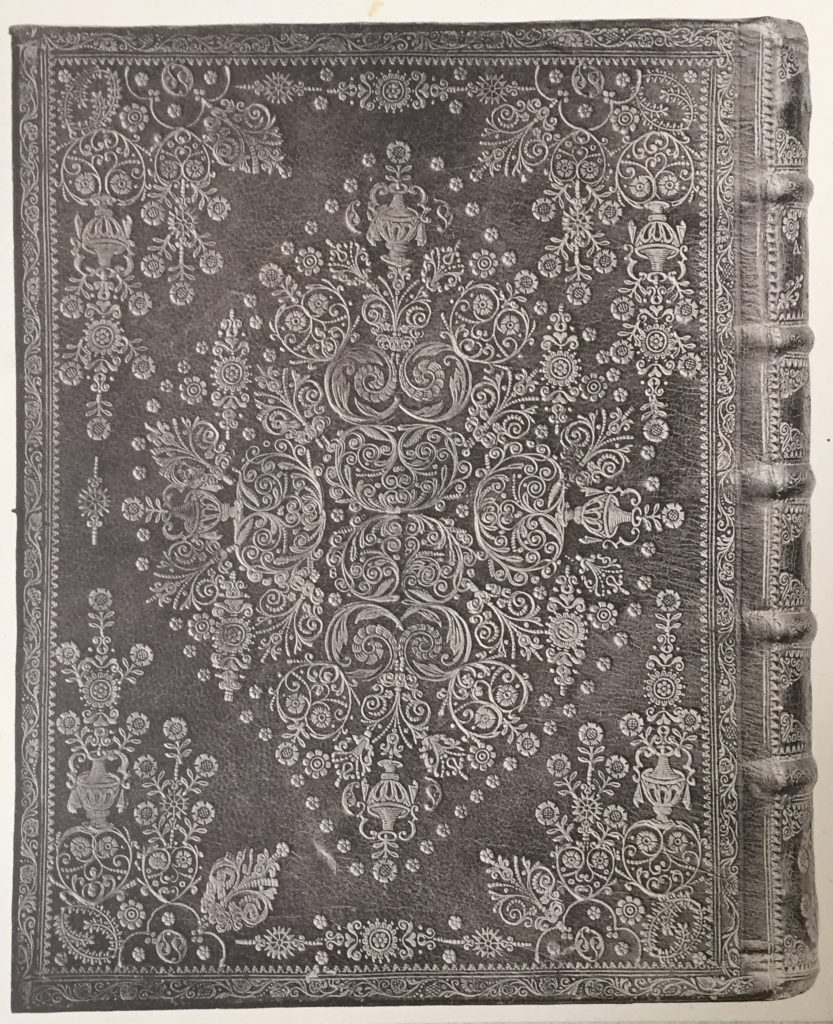 Binding: Millboard covered with red morocco. 205, 17o,3o mm.
Decoration: Still in filigree style, in which, however, there is already a strong admixture of naturalistic elements. The rich composition is of interest, as there is little doubt of its Netherlandish origin.
Plate XXXVI.
J. MASEN1US (S. J.), Anima historiarum . . . hujus
temporis . . . Caroli V et Ferdinandi I imperio
expressa. Coloniae Agrippinae 1672.
Fulda III f. B 23.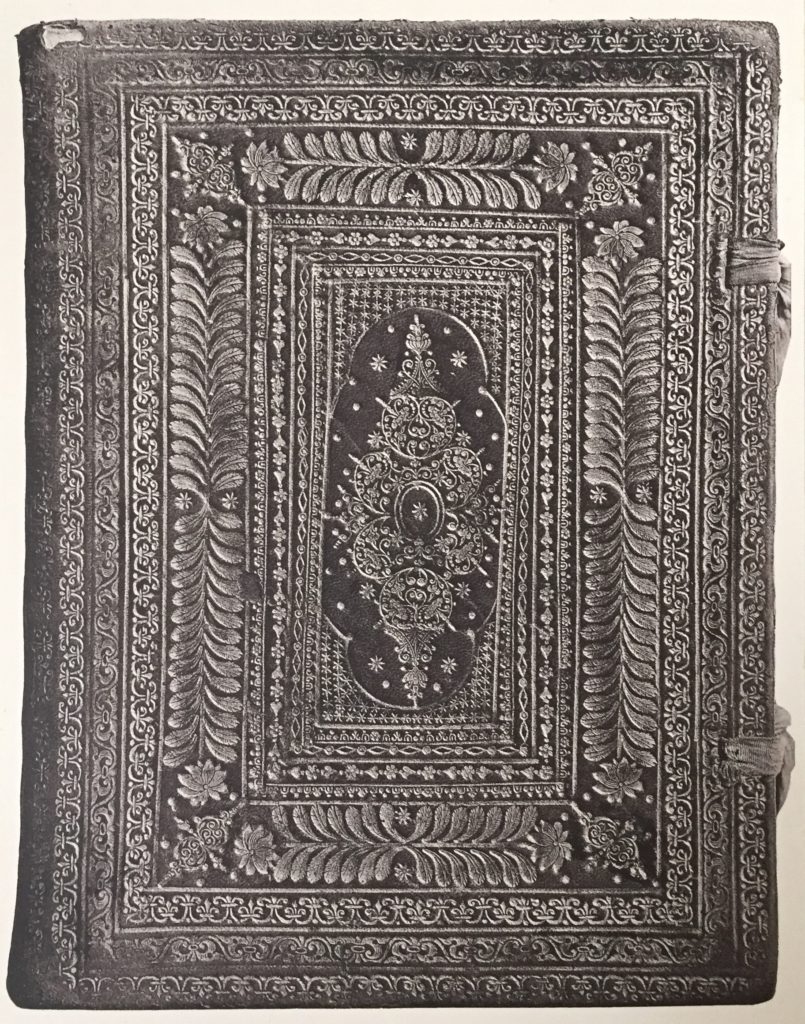 On the fly-leaf: .ad Bibl. celnii, Principis Fuldensis.
Binding: Millboard covered with bright red, rough leather. 155, 215. 25 mm. Sewed with bands imbedded in the back.
Decoration : A variety of rolls form a double border, with-in which lies a leaf work of ferns. The centre piece is powdered with stars and contains a lozenge of filigree scrolls.
Plate XXXVII.
CO1VITE DE PAGAN, les fortifications du .
Paris 1645.
Cassel, arch. milit. fol. 16.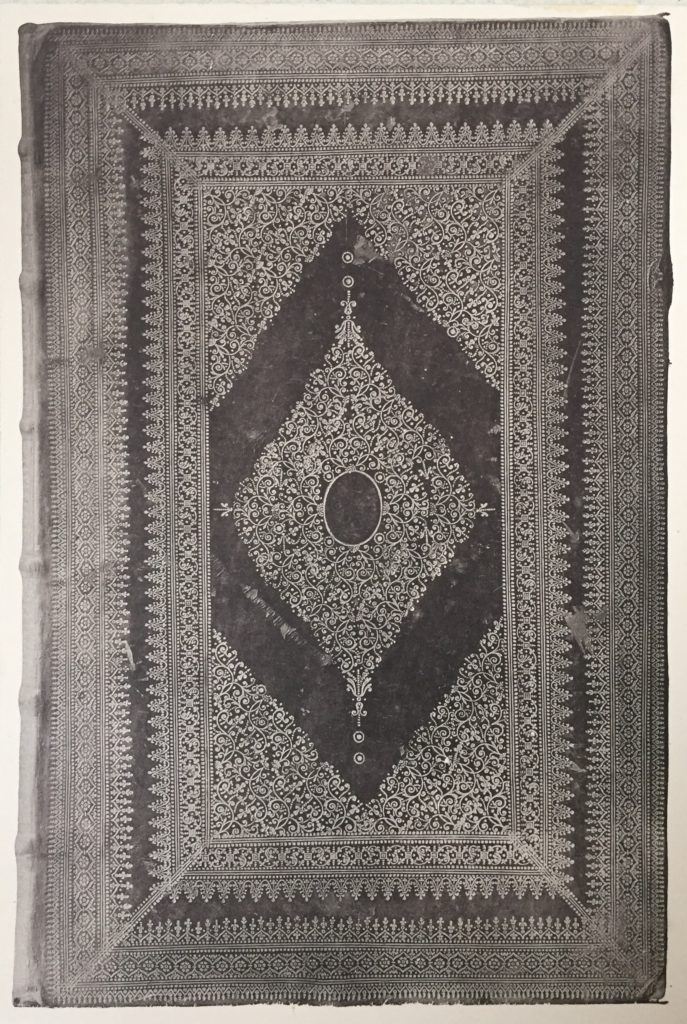 Binding: Millboard covered with bright calf. 240, 340, 3o mm. 6 double cords. Edges gilt.
Decoration of thick filigree scroll work, surrounded by a roll border, and principally composed of a pair of right and left tools,
centre and corner pieces.
The composition is so exact that it required careful examination with the compasses to ascertain that the corner pieces &c. had not been done with large blocks. One remarkable feature, for example, is the isolated circle of dots in the lower left quarter of the centre, which is not repeated in the others.
The binding is probably of French origin.
Plate XXXVIII.
J. SOLDAN, Bericht von der Kirchen Gottes,
Cassel 1653.
Cassel, theol. dogm. pol. 410 167.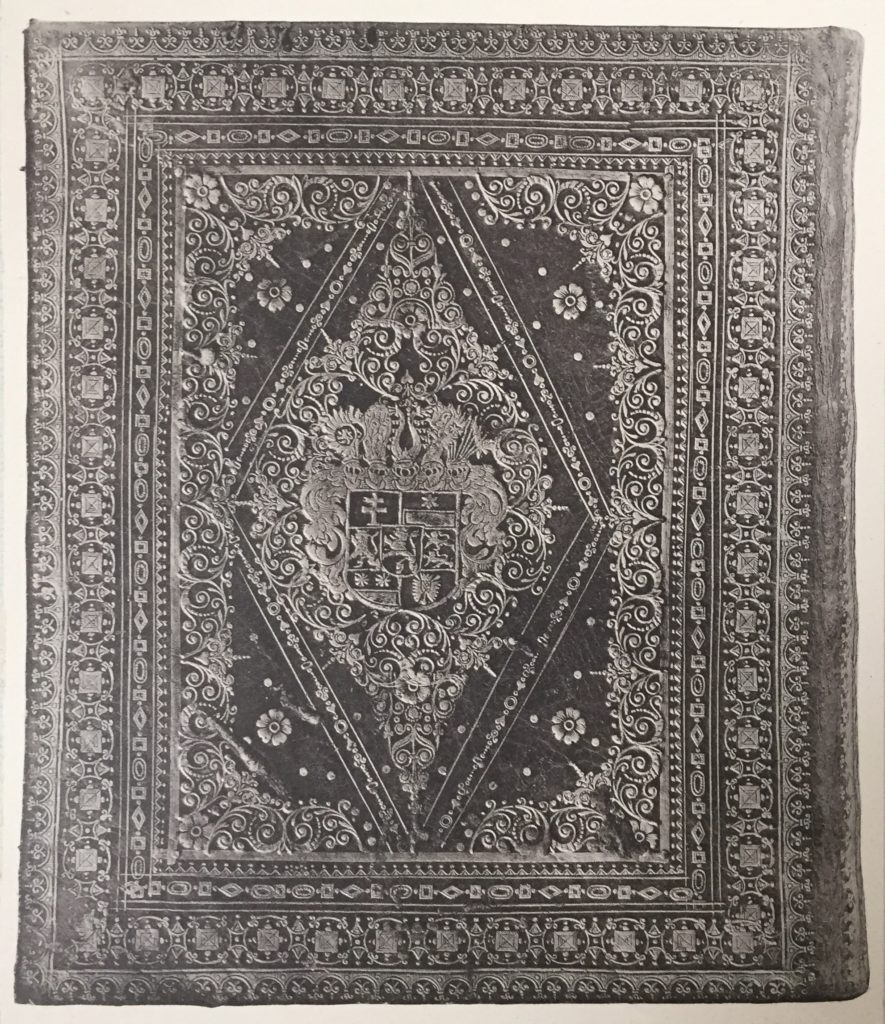 The work is dedicated to the Pfalzgraf Carl Ludwig and the Landgrafin Hedwig Sophie….,•••• •
Binding: Millboard coverea WIL11 WiTK green morocco, 190, 160, 30 mm.
Decoration identical on both sides, the bands imbedded in the back, one panel of which is bordered with the running border of the front side surrounding two oblong ornaments. Smooth gilt edges.
Plate XXXIX.
KLAUTE, sacri romani Imperil leges fundamen-
tales. Cassel rjoI.
Cassel, jus. publ. 4to 113.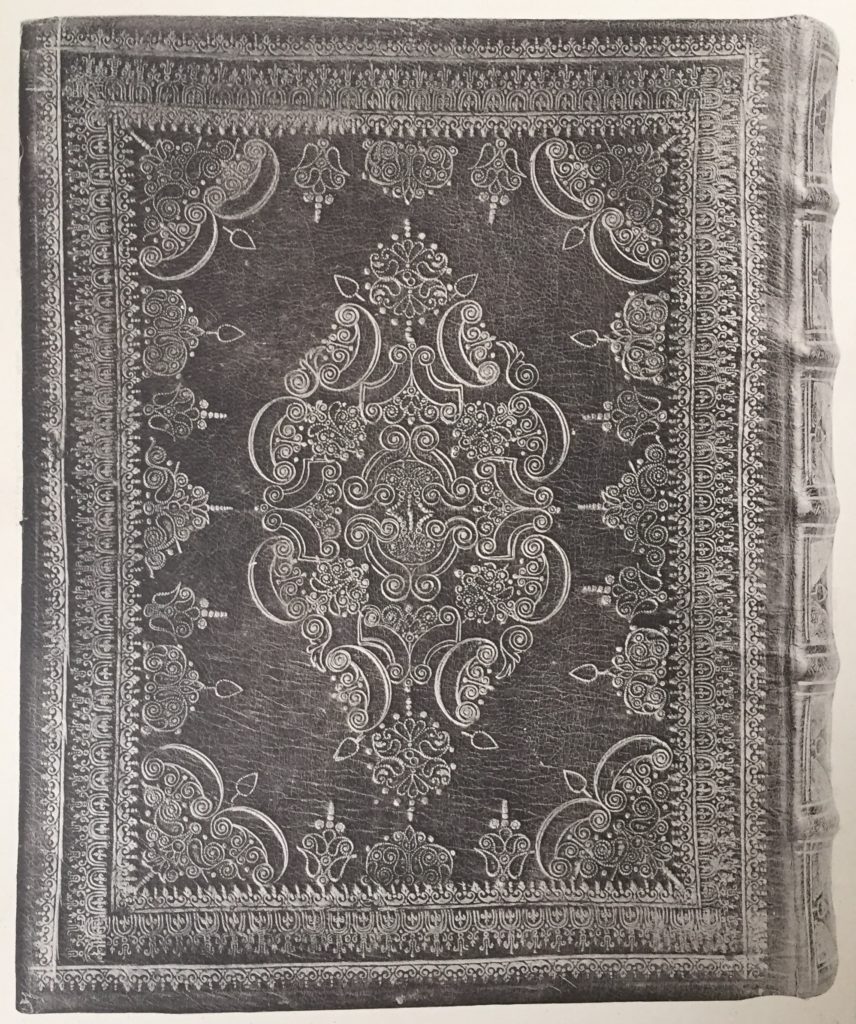 Binding: Millboard covered with red morocco, 235, 190, 30 mm.
Decoration: Dotted filigree work with finials of close spiral volutes mixed with broad crescents of smooth lines terminating in volutes. Surrounded with a border of 3 rolls. On the whole 10 tools and 2 rolls have been employed, the former being of
excellent engraving and, for their period, of astonishing delicacy of form. The workmanship is perfect and the design skilful.