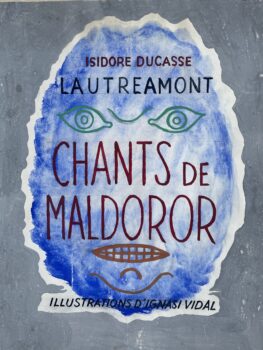 Isadore Ducasse Lautréamont
 Les Chants De Maldoror Illustrés Par Ignasi Vidal 
No date but late 1950 or early 1960
Folio
Calligraphy title page in 3 different colored inks, 10 original watercolors or gouache with references to the Chants, the last page bears a monogram signature for Ducasse. The whole is housed in an artist made chemise, the front illustrated by Vidal
This is a maquette for a book proposal that was either never submitted or rejected. This project never saw production. An unpublished manuscript featuring 16 full-page original surrealist watercolor illustrations by the highly-regarded Catalan painter and illustrator, Ignasi Vidal i Molné. Inspired by Comte de Lautréamont's groundbreaking narrative poem "Les Chants de Maldoror," these works showcase Vidal i Molné's ability to interpret and portray the essence of the text in a captivating visual form.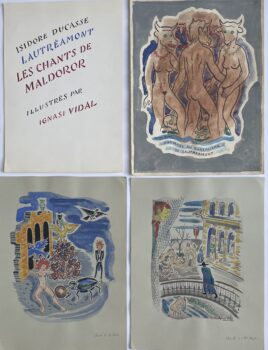 Historical Significance:
"Les Chants de Maldoror" has been a source of inspiration for numerous mid-20th century surrealist artists, drawn to its dark, dreamlike, and often grotesque imagery. The poem's exploration of the subconscious and its defiance of conventional narrative structures laid the foundation for the surrealist movement. As such, many artists have been inspired to create illustrations and visual interpretations of Lautréamont's work, including Salvador Dalí, René Magritte, and Max Ernst.
Ignasi Vidal i Molné's Illustrations:
Vidal i Molné's illustrations in this unpublished manuscript demonstrate his skillful use of color and fluid strokes to capture the surreal nature of Lautréamont's text. Each watercolor is both haunting and mesmerizing, inviting the viewer to delve deeper into the enigmatic world of "Les Chants de Maldoror." Vidal i Molné's distinct surrealist style is evident in these illustrations, which serve as a testament to his artistic talent and his connection to the surrealist movement
2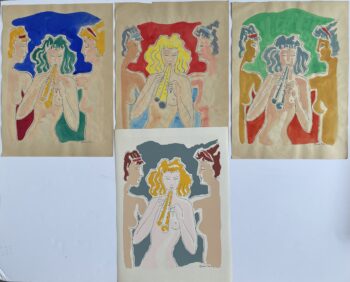 Lucien de Samosate
Dialogue des courtisanes et Lucius ou l'âne
Illustrations d'Ignasi Vidal
Sérigraphie d'art Albert Jorio
Monaco (1961)
Folio
Cet ouvrage, le premier actuellement dans le monde qui soit entièrement réalisé en sérigraphie d'art, a été achevé d'imprimer, le vingt-quatre novembre mil-neuf-cent-soixante et un, par Albert Jorio, en ses ateliers de Monaco (Principauté), qui en a tiré deux cents exemplaires, constituant l'édition originale décomposée comme suit : un exemplaire unique sur pur chiffon d'Arches ; dix-neuf exemplai – res numérotés de II à XX, sur vélin de Rives ; cent-quatre-vingts exemplaires numérotés de 21 à 200, sur vélin Sirène d'Arjomari. Cet exemplaire porte le numéro 124
This work, the first currently in the world to be entirely produced in art screen printing, was completed on November twenty-fourth, one thousand nine hundred and sixty-one, by Albert Jorio, in his workshops in Monaco (Principality), who printed two hundred copies, constituting the original edition decomposed as follows: a unique copy on pure Arches cloth; nineteen exe This copy is numbered 124
This is actually the artist's copy sold from his estate, with 48 extra proofs, some signed in the plate, some signed by the artist and some unsigned all with variant hand coloring in vibrant watercolors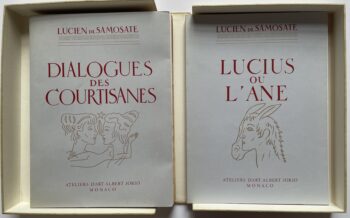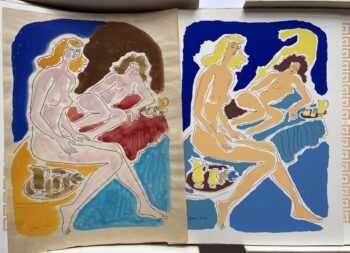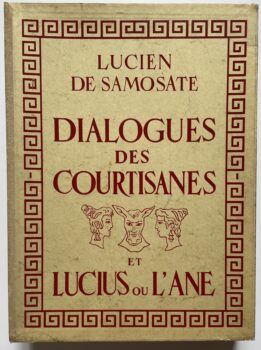 3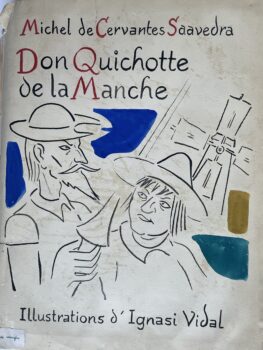 Michel de Cervantes Saavedra
Don Quichotte
de la Manche
Illustrations d' Ignasi Vidal
Folio
31 watercolors or gouache, all mounted on heavier paper, some chapters written in pencil,, housed in an artist made chemise, the front illustrated by Vidal.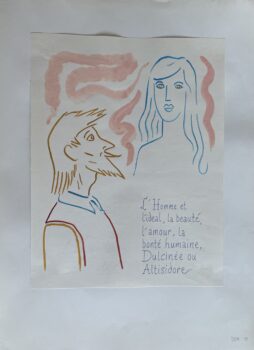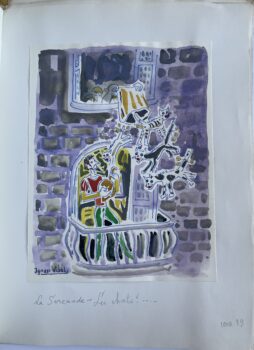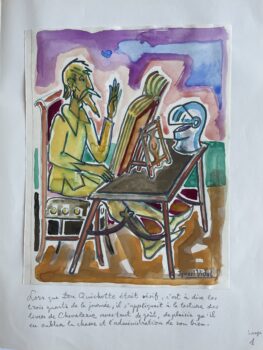 Pencilled on the first blank "Don Quichote de la Mancha, Miguel de Cervantes Saavedra –
30 Illustrations by Ignasi Vidal
A unique copy, a maquette for a book proposal that was either never submitted or rejected.  This project never saw production.  
4
Ignasi Vidal
La Provence
94 pages of calligraphy and watercolors or gouache, a large number signed by the artist, 3 double pages watercolors signed by Vidal, 1 frontispiece watercolor signed, housed in an artist made chemise, the front and end papers illustrated by Vidal.
Large quarto
Ce livre a été tout fait à la main par l'artiste catalan Ignasi Vidal. Principauté de Monaco
"This book was all handmade by Catalan artist Ignasi Vidal. Monaco"
A unique copy, a maquette for a book proposal that was either never submitted or rejected. This project never saw production.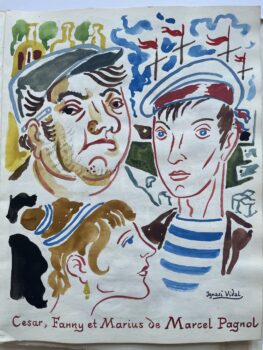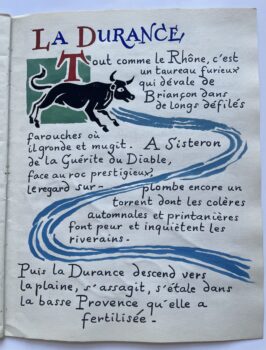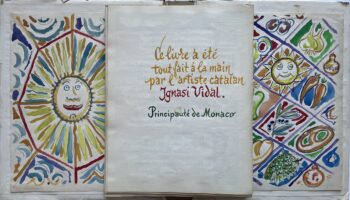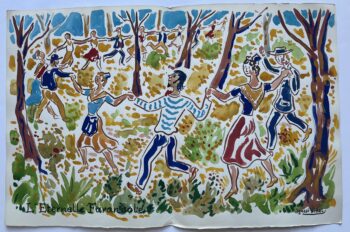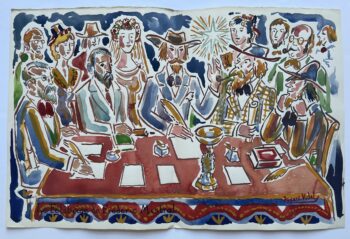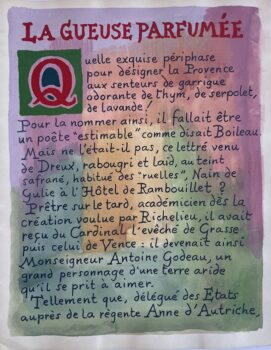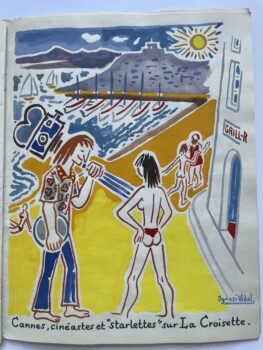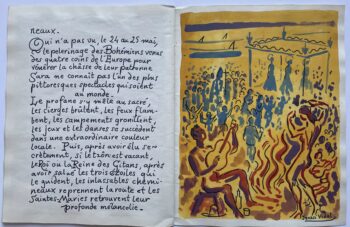 5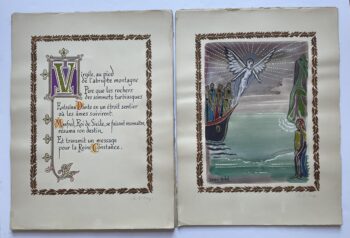 Ignasi Vidal
12 large folio leaves, silk screen borders and text, with 6 illustrations in water color and gouache within the same silk screen border, all bearing the artist signature 
No date but mid century, representing Saint Francis of Assisi, Dante Purgatory.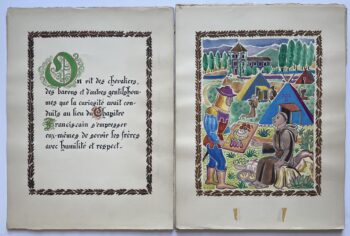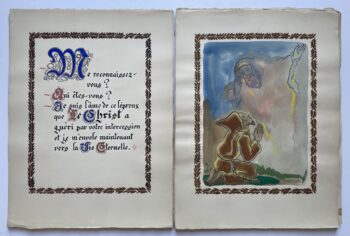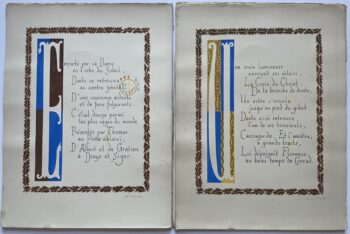 6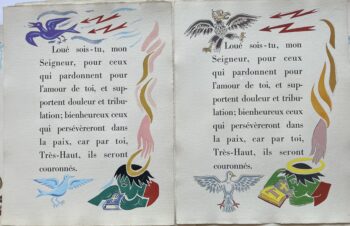 Cantique De Frère Soleil. Saint-François d'Assises 
Les Messagers Du Livre (1960)
2 copies, 1 copy missing one page, all missing the title page, 9 leaves of hand illuminated printed text, watercolors or gouache, 5 full page watercolors or gouache paintings, some on the same subject, all signed by the artist. Also include are 5 graphite on heavy tracing paper draw for silk screen frames.
Large folio, loose as found.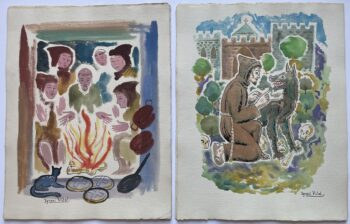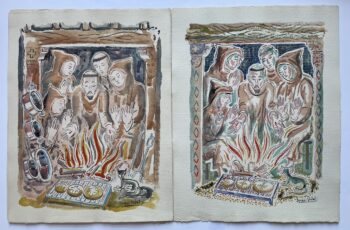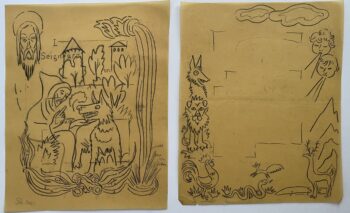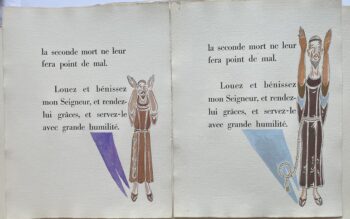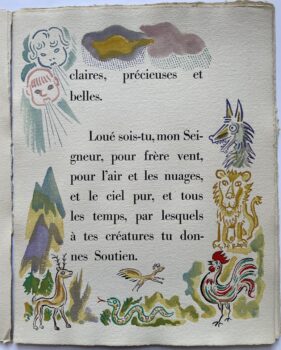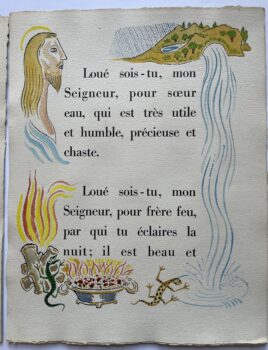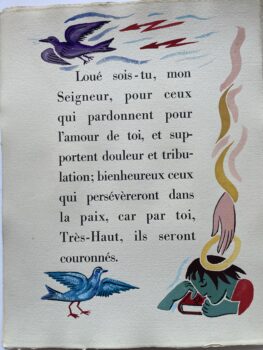 7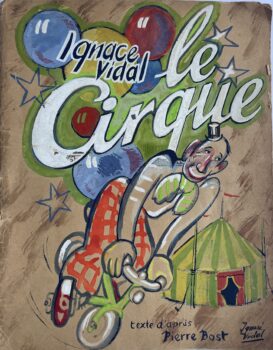 Ignasi Vidal
Le Cirque
Manuscript children's book, full page gouache illustrations on 20 pages.
quarto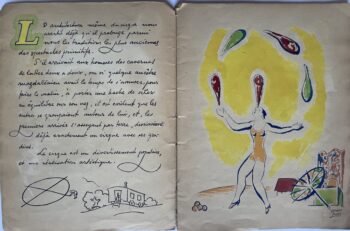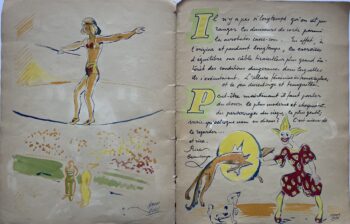 8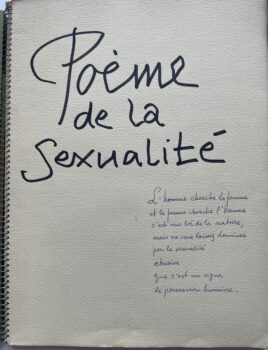 Ignasi Vidal
Poème de la Sexualité
Manuscript adorned with gouache drawings and collages.