Even in Union Square, so laden with artistic tradition, the narrow, corniced, limestone building at No. 41 is special. Apportioned into 125 artists' studios, it includes that of Isabel Bishop, the last of the so-called 14th Street School, which included Reginald Marsh and Edward Laning. This weekend, 41 Union Square is opening itself to the public, and the studios and work of 91 artists will be on exhibit. This unusual show, called "Open Studios" by its participants, marks the second time No. 41 has gone public.
The building, which is at Broadway and 17th Street and can be reached by the Broadway BMT and IRT Lexington Avenue subways, will be open free from 10 A.M. to 5 P.M. tomorrow and Sunday. Paintings, drawings, graphics, sculpture, book bindings, pottery, jewelry, even hats custom made for the Radio City Music Hall Rockettes will be displayed in the studios. Some of these objects will be for sale. In addition, there will be demonstrations of etching techniques, pottery making and bookbinding.
Two years ago, a similar event, involving just 40 of the building's artists, drew nearly 8,000 people over two days, and "people kept asking when we were going to do it again," said Hank Virgona, an etcher and watercolorist, whose province is social satire.
Mr. Virgona said: "Our building is unique. There are people here who believe that art is the universal understanding of life, not the understanding of the business ethic. We want the public to see the artists, to see their work, perhaps buy it. The money we take in will be for food, for rent." Chance for a Joint Effort
Yet for the artists who work in the building, "Open Studios" is perhaps less an effort at a mammoth sale than a chance to join together in a single effort. "Many of them are a bit reclusive," said Jan Wunderman, a painter who sees the world in bold slashes of bright color. "Some of us are so removed from the society we live in. So what we are about here has to do with artists making a community for themselves, or not having one."
Union Square has been part of major movements in 20th-century art, from the Ashcan School through the 14th Street School and including such figures as Arshile Gorky, Morris Kantor, Sol Steinberg, Jack Levine and Andy Warhol. Mr. Warhol still has his studio at the northern end of the square. Inside No. 41 are such artists as Dorothy Dehner, the sculptor and former wife of David Smith; Riko Makeska, a founder of the so-called "Prague Secession" art movement of 1929, which included Oskar Kokoschka, Orthon Coubine, Karl Hofer and Max Beckmann, and Mr. Virgona.
Mr. Makeska, now 80 years old, says he is looking forward to the open house "only because I will enjoy the camaraderie of my fellow artists," such as the artists and illustrators Robert Shore and Ray Houlihan, his neighbors. 'The Spirit Is So Lovely'
Miss Bishop, too, is 80, and her graphic work will soon be the subject of a retrospective at the Associated American Artists Gallery. She told a visitor to her fifth-floor studio the other day that although the two days of open house would take time away from her painting, "I wouldn't miss it because the spirit here is so lovely."
Among the artists whose work will be on exhibit is Howard Siskowitz, who calls himself "a reporter with pad and pencil." Mr. Siskowitz wanders about the city sketching, then returns to his studio each day to flesh out his work with watercolor and pastels. Another of the artists is Judith Frey, who makes odd-size jewelry. Perhaps of more importance, she will show miniature sculptures, small copies of pieces in the permanent collections of the Metropolitan Museum of Art and the Museum of American Folk Art, which she made as museum commissions.
Visitors will see the wonderful clutter of Mr. Houlihan's studio, filled with what he calls "my jobs." These include his latest commissions of paintings of battlefields, weapons and soldiers for an NBC-TV documentary on World War II and a collection of paintings that Mr. Shore has done to illustrate such books as the Herman Melville "Billy Budd" issued by the Limited Editions Club. Behind the Scenes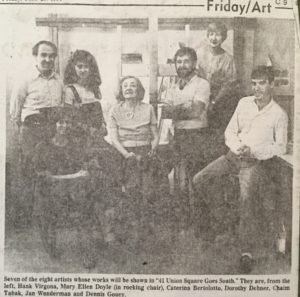 Denis Gouey is expected to exhibit a collection of first editions that he had bound for such bookstores as the Strand. And Chaim Tabak, one of the organizers of the group effort, who was named director of the "Open House" project by the committee of artists who worked with him, is showing the paintings in relief he creates out of dampened rice paper. His wife, Nava Atlas, an illustrator, will also display her work in their eighth-floor studio.
Gilda Weinstein will make pottery, and Susan Cohen, one of the newer tenants at 41 Union Square, will show small oil landscapes, mostly done this summer in the Cummington Artists' Community in western Massachusetts. Archer Ames, who has been spending half his time painting and the other half raising $1,000 to pay for printing "Open House" posters and brochures, will show paper pulp reliefs of Mayan temple decorations, and in the second-floor design studio called Eccentricities, Katherine Silverii and Dennis Paver will show a collection of the hats they've been making for the Rockettes.
These are but a few of the studios that will be open. What makes these open houses popular? "Our theory," Mr. Virgona said, "is that people love to go behind the scenes."