Bibliopegy in America
BIBLIOPEGY IN THE UNITED STATES

AND KINDRED SUBJECTS
BY WILLIAM LORING ANDREWS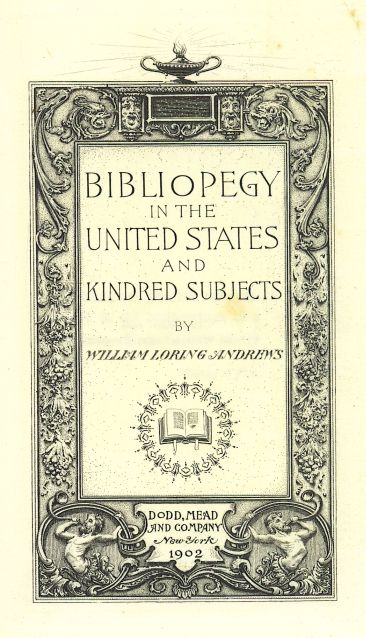 "To be strong-backed and neat
bound is the Desideratum of a volume.
Magnificence comes after."
Essays of Elia.
Publisher's note:
The following preface pertains to the prints published with the 1902 edition of Bibliopegy in the United States.
The printing details are of course irrelevant for the digital images from this web site.
The color illustrations from the book were scanned and published without alterations, the black and white were colorized to accentuate the details and give an idea of what the book may have looked like to the author.
The text part of the book is finished, only some images are still worked on and will be added soon.



PREFACE





THE color prints in this book have been produced by two diametrically opposite processes. Those of " The Contrast," "The Gift" and "The Rainbow " are printed from relief plates treated in a special manner, two plates being required for the printing of each color of leather, one for the gold impression. These plates can be printed satisfactorily only upon a dry, highly finished paper.

Half-tone reproductions of leather bindings are by no means a novelty, but so far as I am aware, these plates are the first fairly successful reproductions of leather bindings, made directly from the books themselves by what is known as the direct process. Heretofore the tooled design has been redrawn on a large scale, and reduced to the proper size by photo-engraving ; an imitation of the grain of leather being produced by impressions from one or more additional plates.

The pictures of the " Gesang Buch," the " American Latin Grammar " and the " Prompter Book," are printed from a single photogravure copper plate, on a wet paper, which may be either rough or smooth-surfaced. The Xll Preface colors in this process are applied to the plate by hand, and it is necessary, after each impression is taken, to clean and polish the plate - upon which the printer must then repeat the tedious operation of reapplying the colors. He virtually paints the copper-plate anew after each impression. This process was, I believe, first successfully employed in France.

It is needless for me to draw attention to the designs and engravings by Mr. Sidney L. Smith which happily this book contains. Every lover and collector of beautiful books will recognize in them a revival of the art of the French vignettists of the eighteenth century, in which was reached the acme of gracefulness and skill, in the decoration of the pages of a book.

W. L. A.
---